Lifting the mana, morale and success of Māori students by building their knowledge of themselves, their whānau, hapū and iwi is what drives Chris Wilton (Muaūpoko, Ngāti Raukawa) of Horowhenua College and the Horowhenua Kāhui Ako. A teacher of te reo at the college, Wilton is also an Across school teacher1, supported by the Horowhenua Kāhui Ako, to work with tamariki in local primary schools.
He does it using traditional tuakana/teina methods – Māori students in the Rangatahi Ora programme at Horowhenua College go with him and his colleagues to local primary schools in Levin for one hour every week. Each Wānanga Wednesday programme involves getting to know the tamariki Māori in each school and helping them learn pepeha, waiata, tikanga and kapa haka.
"If you're going to raise educational success, or any success as Māori, whānau has got to be at the centre."
Being able to stand up and greet manuhiri in te reo, stating their pepeha, is the goal for the 15- week programme, explains Wilton. "At the start they were reluctant to even say 'kia ora', and to see how much they've blossomed in the time we've had them is awesome! These kids were so de-culturalised." The boys practise whaikōrero skills, and the girls karanga – leadership skills within pōwhiri and te ao Māori which are also appreciated within the whole school community.
The pōwhiri and Wānanga Wednesday graduation at St Joseph's School in Levin in November 2021 was well-attended by whānau, and whānau support is the key to the programme's success, says Wilton. "When people talk about Māori achievement as Māori, I've always said, surely that's with your whānau! We do everything with our whānau, as Māori. So if you're going to raise educational success, or any success as Māori, whānau has got to be at the centre."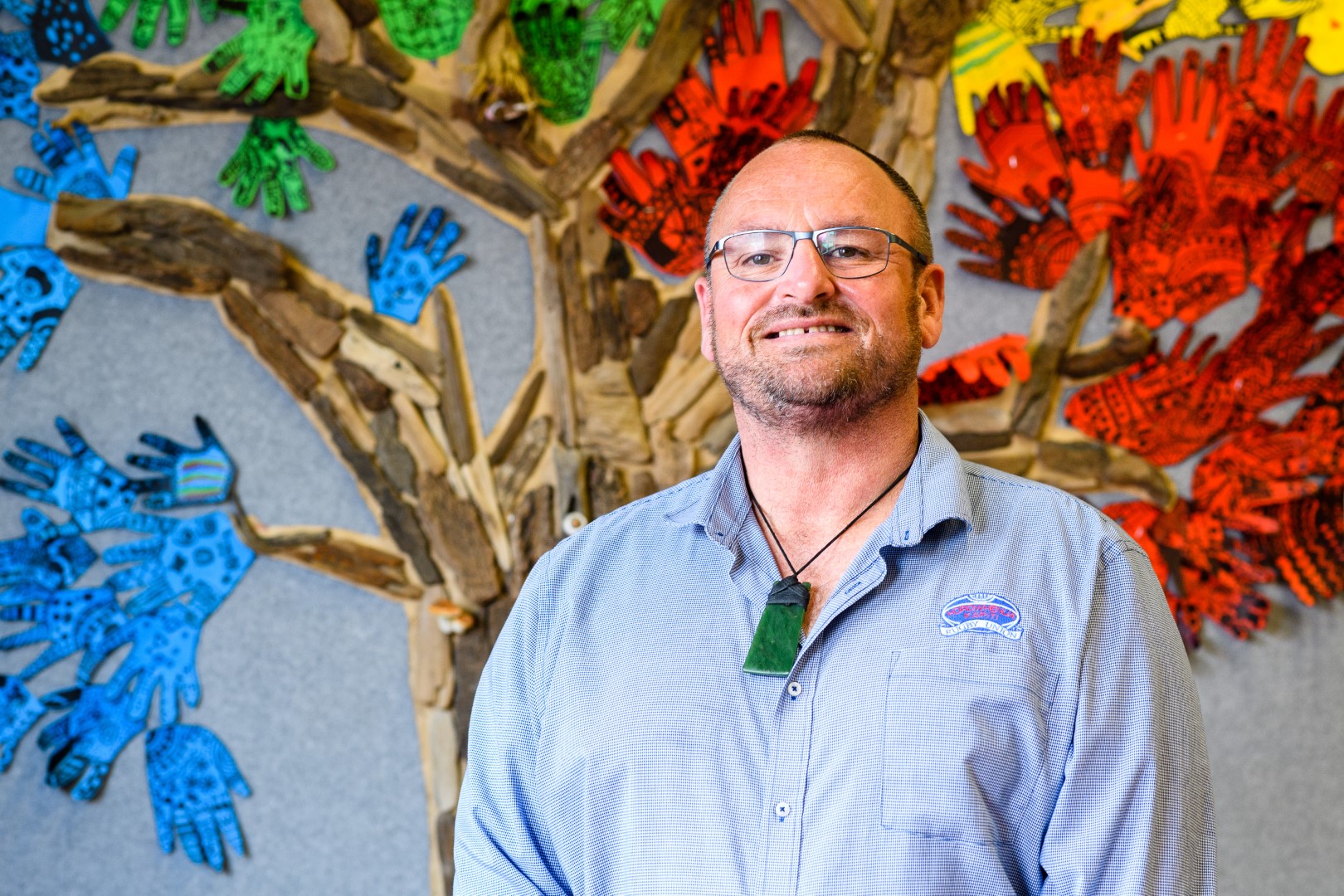 Whānau make the rules for Rangatahi Ora and Wānanga Wednesdays and they decided they should be for Māori students only. Wilton says this ensures they can relax, build trust and confidence amongst themselves, and build the Māori identity of the group. There are other opportunities for non-Māori children to learn te reo and kapa haka at the schools, but he believes a Māori-only group is important to building its strength. "It's being able to represent the school as Māori and being able to excel because you're Māori. Being out there like that."
St Joseph's Catholic School Principal Maria Lyne spoke to the new graduates at the ceremony: "I'm very proud of each and every one of you, the progress that you've made. You're standing a little taller, particularly in this setting. You've grown in confidence, and can apply that to every other aspect at the school!"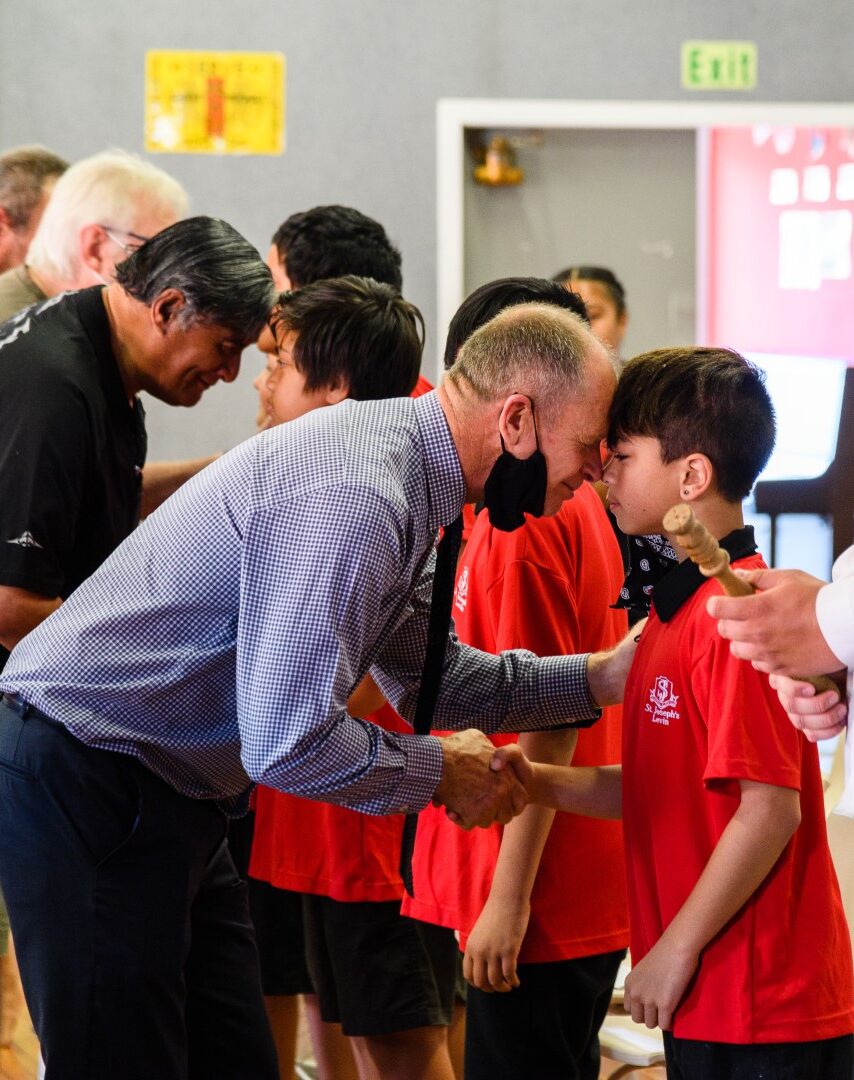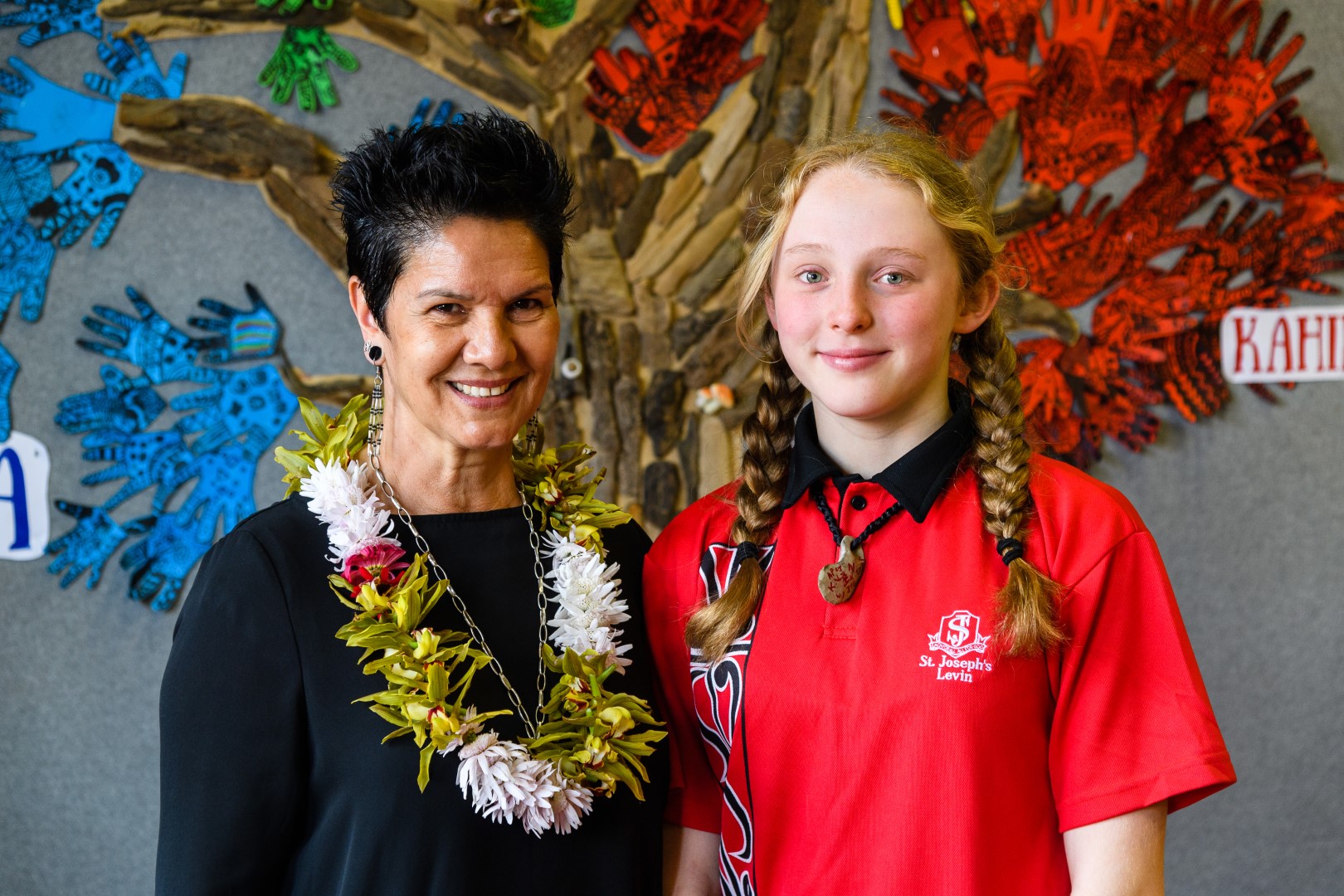 Wilton and Rangatahi Ora have worked in six primary schools in the last six years. He has been running Rangatahi Ora for the last twelve years, based on the Ka Hikitia, "Māori Success as Māori" philosophy, which he studied as part of his master's degree in Māori education. Rangatahi Ora has lifted academic achievement of the Māori students at Horowhenua College, and through their experience working with children in primary schools, some have become teachers themselves. "They enjoyed it, and they realised they'd like to be teachers," shares Wilton. "One has now got a double degree in te reo at Waikato University. It started with Wānanga Wednesday."
Rangatahi Ora and Wānanga Wednesdays are two of the initiatives supported by the Horowhenua Kāhui Ako, in partnership with the Muaūpoko Tribal Authority (under CEO Di Rump) and Ngāti Raukawa representatives, including Tiwana Hibbs (Foxton Primary School principal), appointed last year as a supporting principal to bring in Ngāti Raukawa knowledge and connections. Dylan Kiriona of Ngāti Raukawa (Ngāti Huia ki Matau hapū) also works with Wilton, and they arrange visits to marae of both local mana whenua iwi – Muaūpoko and Ngāti Raukawa.
"Dylan and I have spoken on the pae of Matau together, we have spoken on the pae at Kawiu," says Wilton. "When we are at Matau we like praising Ngāti Huia to the bone, we love it; when we are at Kawiu, we're doing the same with Muaūpoko." Understanding the perspectives on stories and histories of both iwi makes both these teachers especially valuable within the rohe, and good role models for students. Different kōrero is appropriate for different contexts, or as Wilton says, "when in Rome …".
'Hau's travels', inspired by the story of Haunui-a-Nanaia and how he named the rivers in the area, is one of the activities Chris Wilton has planned for an upcoming noho marae at Katihiku marae, Ōtaki. The latest Rangatahi Ora graduates are staying at the marae for a week of fun and learning activities, including paintball, a hākari or feast, and a day tour where they experience each river from Rangitikei south, obtain a mauri stone, and visit local marae.
"We're visiting many of the Ngāti Raukawa marae, from Rangitikei down. We go to the waharoa and talk about the whare, for our Ngāti Raukawa kids. We create a sheet where they say the name of the whare, and a couple of facts about all the marae." Both Muaūpoko and Ngāti Raukawa have interests as far north as the Rangitikei river, and south at least as far as Kukutauaki (north of Waikanae) in the case of Ngāti Raukawa, and some would argue further south for both iwi also.
---
Recognising the two main iwi in the area, the Horowhenua Kāhui Ako is made up of the Taitoko cluster (Levin), which is primarily under the mana of Muaūpoko, and the Kerekere cluster (Foxton, Foxton Beach and Shannon), which is primarily under the mana of Ngāti Raukawa. While both iwi are in both places, each needs a place to exercise tino rangātiratanga, says Di Rump (Muaūpoko, Ngāti Raukawa). Each cluster has its own leader theoretically, but in practice they work together, meeting regularly to share ideas and resources.
"In the past it was just basically everyone working in isolation but now all our schools and kura … work together. I think that's a really powerful thing, and it's taken a while to get to that point."
Having two clusters made sense because most Levin students journey through to Horowhenua College or Waiopehu College, and the Foxton/Shannon students go on to Manawatu College. It also meant access to a higher level of government funding. "The reason we split was to access more resourcing for the kids in our area," explains co-leader Moira Campbell.
"We always wanted to have a collaborative leadership model, but the Ministry of Education wouldn't allow us to have one Kāhui Ako with two leaders. In terms of the mahi on the ground, we are both the leaders of both, but on paper I am the leader of Taitoko and Hamish [Stuart] is the leader of Kerekere. That was important to us, we need to work with other people."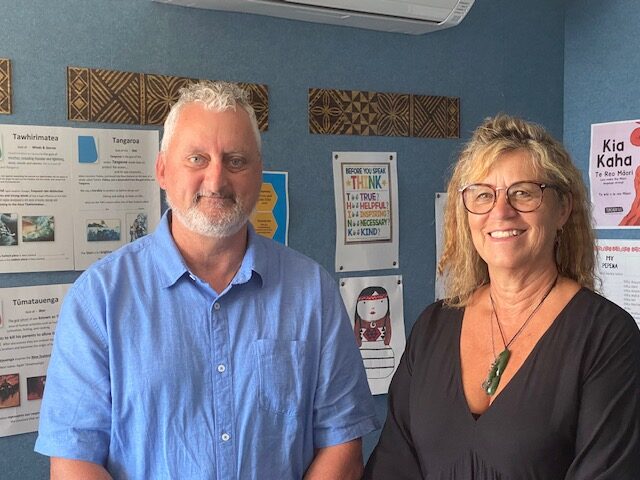 The team has built an important network of relationships and resources amongst themselves, to share knowledge and help each other on their journey to connect with local iwi and local knowledge – history, whānau, significant events and culture.
"In the past it was just basically everyone working in isolation," says co-leader Hamish Stuart, "but now all our schools and kura, whether it's in the Kerekere or in the Taitoko cluster of the Kāhui Ako, we all work together. I think that's a really powerful thing, and it's taken a while to get to that point."
Campbell also shares some insights into how they are beginning to integrate local and Māori kōrero and history into the curriculum: "We start every year with a teacher-only day at a marae for all educators in Horowhenua, that has been transformational for education.
"With the Muaūpoko-tanga and the Raukawa-tanga days, all schools go to either one if they can. But we try to work together so that people don't have to feel like they are split in half."
"It's about working in partnership – rather than saying, hey we've got this great idea – ask the iwi how they want to do it."
The Ngāti Raukawa teacher-only day at Kererū marae in March 2021 involved over 60 teachers from throughout the Horowhenua area. Hosted by hau kainga, the teachers experienced a pōwhiri, heard kōrero about tūpuna and whakapapa associated with the marae, local stories, and were given written resources for use in schools.
As well as learning waiata and karakia used by local hapū, there were outdoor exercises such as Ki-o-Rahi and Ti Rākau and visits to local sites associated with Ngāti Raukawa such as the Whare Manaaki (Māori arts centre) and Ngāti Raukawa museum/gallery space Piriharakeke at Te Awahou Niuewe Stroom (cultural centre), Foxton.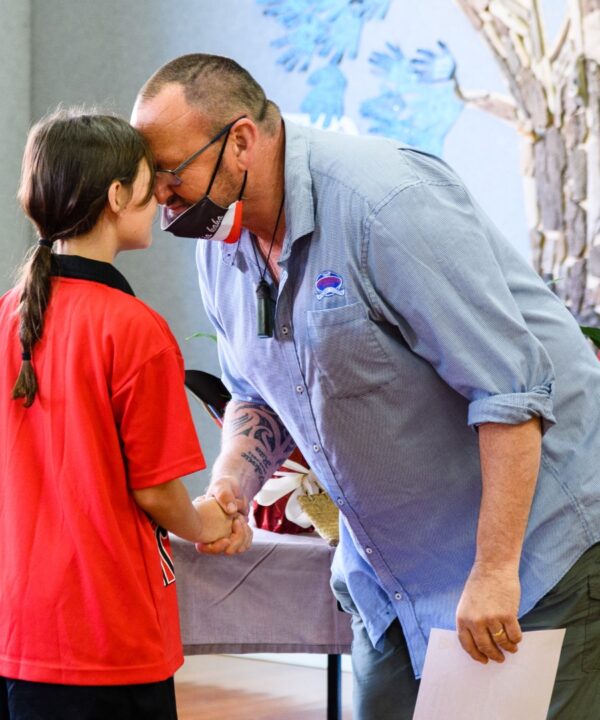 Principal of Koputaroa School, Danielle Bence, also a supporting principal in the Horowhenua Kāhui Ako and Learning Support Co-ordinator, was particularly pleased to be at Kererū marae in March. She first took her school community on a visit to Kererū marae back in 2014, and said it was really significant for the school: "We had lots of parents who came along and they were like, wow! It was really rewarding in that respect. Our kids are used to tikanga and understand it, but the parents hadn't had that, so that was really, really valuable."
---
As well as investing strongly in relationship building with the two iwi, the Kāhui Ako works to build expertise and knowledge on a range of topic inquiries. With the government putting a stronger emphasis on schools teaching local history, the Kāhui Ako supported Within school teacher2 Nick Baker of Foxton Beach School in his inquiry on the use of digital technology to bring history to life.
Having done research on dyslexia and children's learning, Baker wanted to explore how students could engage with history better through a multi-sensory approach. "Our history in New Zealand is amazing!" says Baker as he relates teaching about the battle of Ruapekapeka (Northland). "Rua what?" was the students' first response. But by the end of the sessions, in which the children were enabled to use digital technology methods to learn and develop presentations, they knew how the place got its name 'the bats' nest', and the significance of Māori creating trenches to hide from the British bombardment.
"New Zealand history is some of the most riveting, visceral and impactful of any history you can learn," Baker enthuses. An underlying theme of the Horowhenua Kāhui Ako is to challenge principals and teachers to lift their game in terms of engaging tamariki and rangatahi Māori, Pasifika and others. Campbell believes the allowance given to co-leaders for this extra mahi, on top of their role as principals, is well-deserved and that a national review of funding for Kāhui Ako is timely.
"We're taking baby steps, but the first step is understanding and acknowledging that there are skills, expertise and knowledge that we basically had no idea of."
"It's hard work getting leaders to change their minds about all sorts of things, about the impact of colonisation, the inherently racist things that happen in schools – hard work getting people to challenge themselves around all that sort of stuff.
"There's no power relationship, but I provide the readings, provide the discussion points, and need reflection time, you know. We get tips from the Māori Achievement Collaborative (MAC) group for principals. It's so much mahi. I love it, and don't do it for the money, but it's nice to be acknowledged for doing that work."
There has been no budget increase for Communities of Learning/Kāhui Ako since they were introduced seven years ago. The importance of the Kāhui Ako in enabling and maintaining relationships with hapū and iwi, especially towards building Māori success as Māori and introducing more local and iwi history needs to be recognised.
"We're taking baby steps," says Campbell. "But the first step is understanding and acknowledging that there are skills, expertise and knowledge that we basically had no idea of. It's impacted both sides. It's impacted the educators, like in my own school – we've got a rongoā garden which we never had before, as a result of the last Muaūpoko day.
"We have iwi – Muaūpoko and Ngāti Raukawa – come and support school events such as pōwhiri, as each has its own kaupapa. So it's about working in partnership – rather than saying, hey we've got this great idea, can you come and do it with us? Ask the iwi how they want to do it."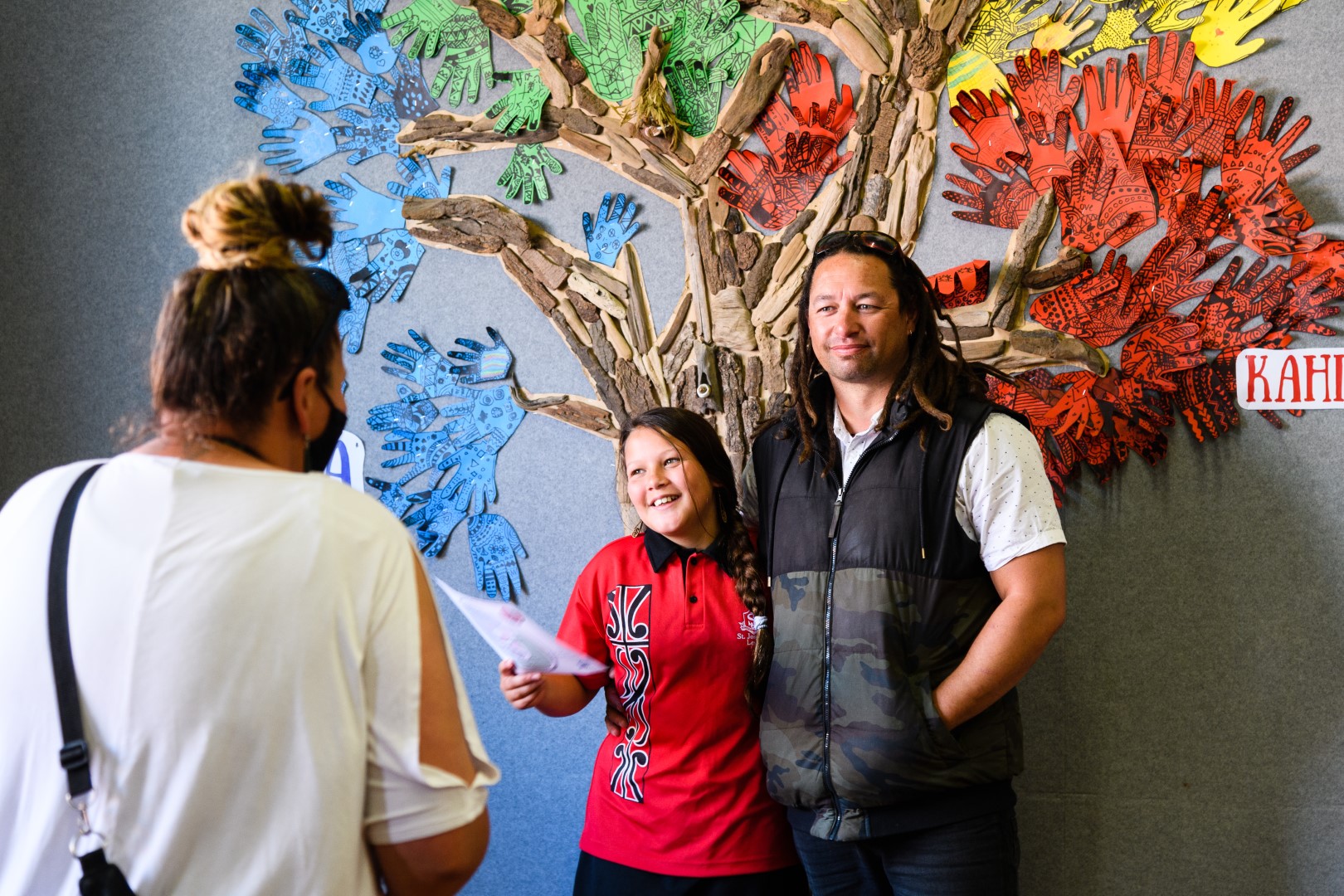 She brings our story back to where it started when she says that Chris Wilton, with his connection and knowledge of both local iwi, and his work in the primary schools (Wānanga Wednesday) has been hugely significant in the success of the Horowhenua Kāhui Ako.
"Part of his mahi is building relationships with whānau and iwi, but also getting that engagement and enhancing Māori success as Māori, if you like. That's the work that he does in primary schools around the area, as well as other mahi. That's been huge for us. He's also instrumental in working with both iwi days, as he's Ngāti Raukawa and Muaūpoko. Appointing him to a role in the Kāhui Ako has helped strengthen relationships."
We can see why Chris Wilton and his Rangatahi Ora programme were finalists in the Prime Minister's Educational Excellence Award in 2017! Ngā mihi nunui kia koutou Chris Wilton, the Horowhenua Kāhui Ako team, and all the whānau and families who support the mahi of lifting the mana of tamariki Māori in schools, and building understanding, acceptance and tikanga in whole-school contexts!
The last word from Wilton: "The whanau are our greatest resource!"
---
A shared story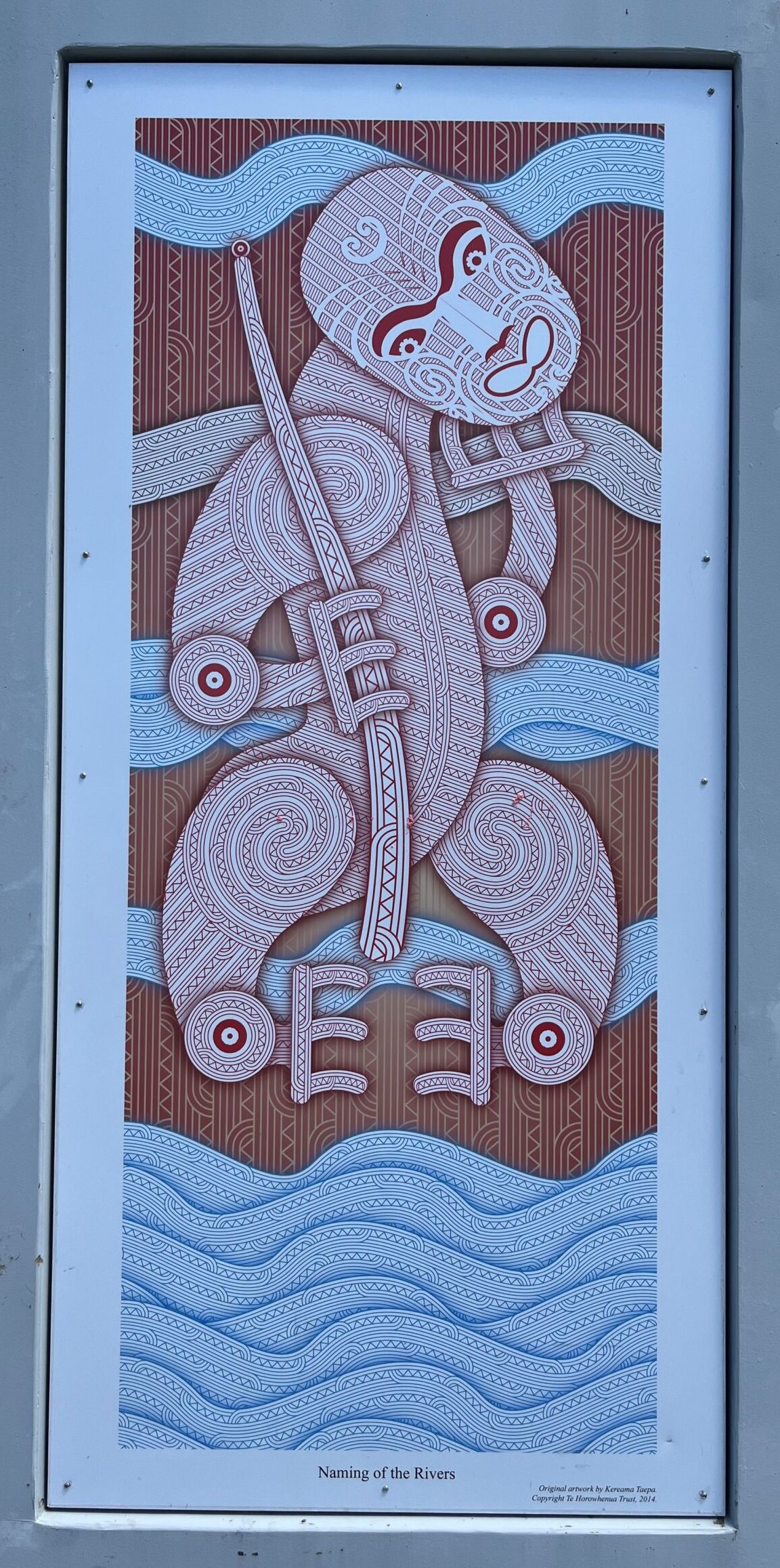 The kōrero of Haunui-a-Nanaia and the naming of the rivers from Whanganui to Pukerua Bay is one held in common across both Ngāti Raukawa and Muaūpoko, as both iwi connect to the Kurahaupō waka from which Haunui descends. For Ngāti Raukawa, the connection is through Mahinārangi, the mother of Raukawa.
Haunui-a-Nanaia, also known as Hau, was a great-grandson of Kupe, and Nanaia was his mother. His father Popoto came to Aotearoa in the Kurahaupō waka, along with Whatonga, according to Ngāti Kahungunu sources. Hau left his wife Wairaka at Mahia and returned to Hawaiki with his elder brothers. He returned after some time to find she had been carried away by two servants, Kiwi and Weka, towards Pukerua Bay, near Paekākāriki. Haunui is said to have crossed to Whanganui and then headed south, naming the rivers and other waterways as he crossed them.
At Pukerua Bay Haunui finally caught up with his wife Wairaka and her lovers. They were killed by his incantation, and she was turned to stone, remaining a lonely sentinel at Pukerua to this day.
Kapua mai e Hau ko te one ki te ringa,
Ko te tokotoko.
Ka witi i te awa,
Ka nui ia, ko Wanga-nui;
Tiehutia te wai, ko Wangae-hu Ka hinga te rakau, ko Turakina; Tikeitia te waewae, ko Tikei;
Ka tatū, e hine, ko Manawatu;
Ka rorohio ngā taringa, ko Hokio;
Waiho te awa iti hei ingoa mōna ki Ohau;
Takina te tokotoko, ko Otaki; Kamehameha, e hine, ko Wai-mea;
Ka ngahae ngā pi, ko Wai-kanae;
Ka tangi ko tō mapu, e hine,
Ka kite koe i a Wai-raka: Matapoutia; poua ki runga, poua ki raro,
Ka rarau, e hine.
Hau took up some sand in the palm of his hand, and his staff.
When he crossed over the river, Finding it was wide he called it Wanga-nui;
Splash the water, that will reach Wangae-hu;
The length of a fallen tree, is Tura-(kina);
Having many times lifted up his feet, Tikei (Rangi-tikei),
When his heart sank within him, Manawatu;
When the wind whistled past his ears, Hokio;
The small river he called, Ohau;
When he carried his staff in a horizontal position, Otaki;
When he prayed, O daughter, it was Wai-mea;
When he looked out of the corner of his eye, Wai-kanae;
When he became weary, my daughter, he reached Wai-raka.
He repeated an incantation,
She became fixed above, and fixed below,
And she remained immovable.
Excerpt from Ko te popo a Te Rangitakoru mo tana tamahine, mo Wharaurangi. In Te Ika a Māori, or New Zealand and its inhabitants, Chap X Songs. Rev R.Taylor, Wertheim & Macintosh, 1855, London. http://nzetc.victoria.ac.nz/tm/scholarly/tei-TayTeik-t1-body-d1-d10.html
References
[1] Across school teachers or Kāhui facilitators focus on supporting improvement in student achievement and wellbeing by strengthening teaching and leadership practices. https://www.education.govt.nz/
communities-of-learning/guidance-for-boards/across-schoolsteacher/
[2] Within school teachers aim to provide leadership within their own school, but also in collaboration with within school teachers in other schools, on certain topics.