Years after the tamariki of Katikati Kindergarten adopted a neglected reserve, many of them still pick a snack from one of the fruit trees they planted as they pass on their way to college.
Head Teacher Cushla Scott says the Bay of Plenty community loves and values the area of Gilfillan Reserve now known as the Kati KaiWay. "Some of them [past kindergarten children] have gone off to work now at part-time jobs, and one boy in particular has donated us some money – $60 for us to plant some more trees," she says.
Teacher Jizzy Green spearheaded the initial project alongside Scott and teacher Biddy Hudson. They worked with the New Zealand Tree Crops Association and the Western Bay of Plenty District Council for nine months before the first tree was planted in 2012. They continue to take groups of children to the Kati KaiWay with their gloves and rubbish bags. Donya Feci, who joined the team after Green's departure, now oversees the care of the garden beds and is passionate about the importance of healthy soil.
"They pick up rubbish, they pull out weeds around the beds. In the early days we had to water the trees because they were all quite small. We take small groups up there and they learn to love it and enjoy it, and get heavily involved in the whole process," says Scott.
"And it's a food source for children that may not always be able to access fresh fruit readily. There're plums, citrus, nashi, guavas, feijoas. We've got persimmons, walnuts and almonds. The almonds are producing for the first time this year, which is very exciting!" she says.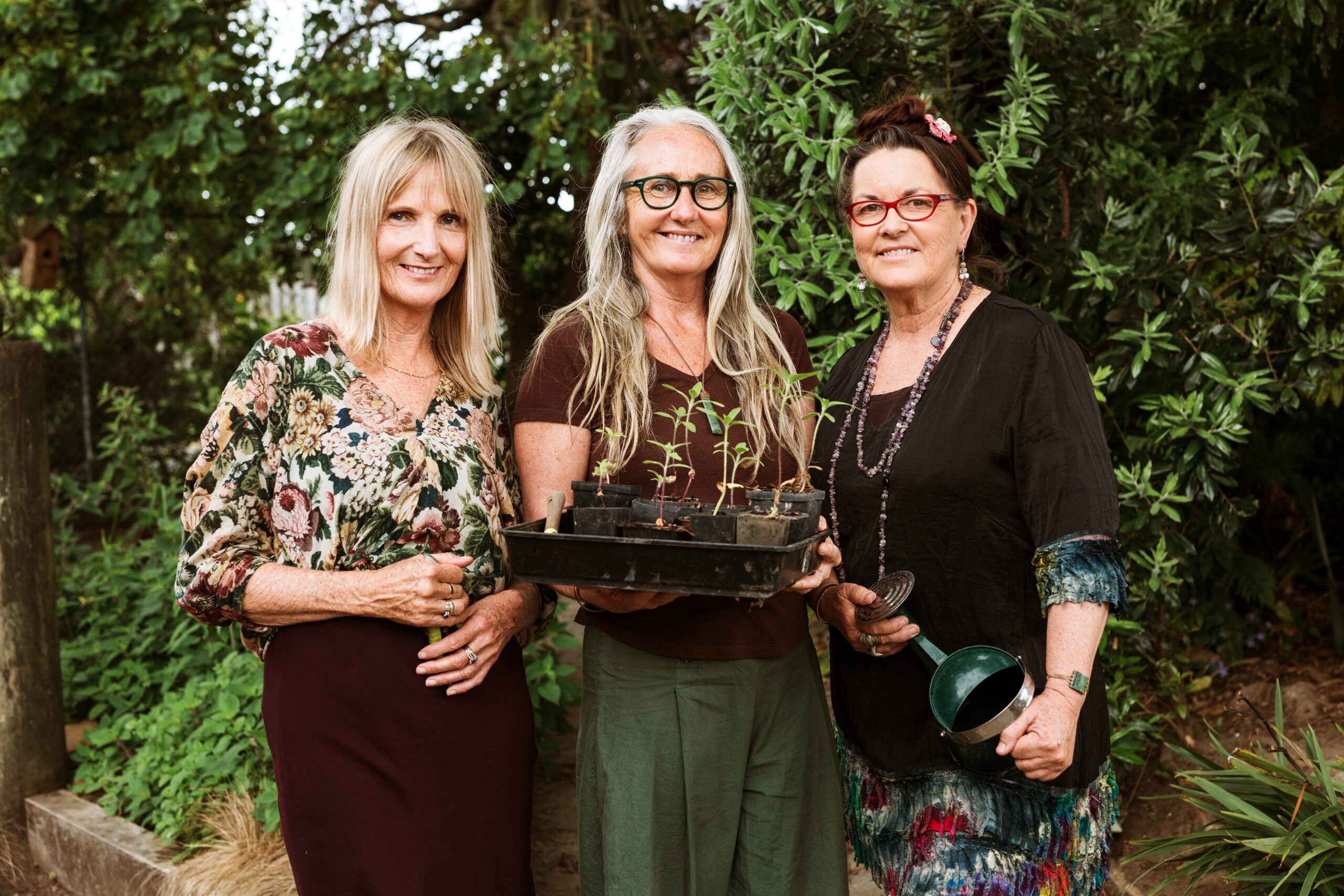 The Kati KaiWay was a significant factor in the kindergarten being awarded the prestigious Enviroschools "beyond Green-Gold" status in 2018 – an award which recognises commitment to the environment that embraces the wider community.
Katikati Kindergarten's enthusiasm for sustainability and environmental education began years earlier, Scott says, when they decided to replace the brightly-coloured, rotting playground with an environmentally friendly playground.
An adobe specialist was brought in to run a workshop with parents about how to work with adobe. It took eight days to create a beautiful playground that included a hobbit house with mosaics and a living roof.
That was followed by underfloor insulation, energy efficient lighting and solar panels being installed in the kindergarten, which reduced electricity costs. Inspired Kindergartens – a network of kindergartens in the Bay of Plenty – and a power company helped with the solar panel installation costs. They were also supported by Nik Gregg from Sustainability Options whose key priorities are community, social and environmental concerns. He is still working with Inspired Kindergartens on their goal to become a self-sufficient organisation by 2025.
Katikati Kindergarten share their solar electricity via a buddy programme in which ten Inspired Kindergartens with solar panels sell their excess to thirteen other kindergartens.
"It's a win-win. We sell the power to our buddies at 7c per unit, which is less than they would pay TrustPower, and equal or more than we would receive if we had to sell the surplus power back to TrustPower," says Scott.
The kindergarten is also involved in Grow On Katikati, a community-led regenerative food cycle project that grew out of the Covid-19 pandemic and lockdown. The teachers and children plant seeds and gift the seedlings to families in the community, encouraging local food security by sharing knowledge and produce.
Teacher Donya Feci says the children are heavily involved in recycling and composting at the centre, growing vegetables and harvesting the heritage seeds, which are given away or sold.
"They love the seed saving, and they pack them up in the little envelopes and put them in our little shop. Or they decant the worm wine and put the labels on. They're quite entrepreneurial like that," says Feci.
Feci and Scott laugh that the days of leaving the hose running in the sandpit are long gone, and the children are quick to dob in parents who don't turn off the tap at home while cleaning their teeth.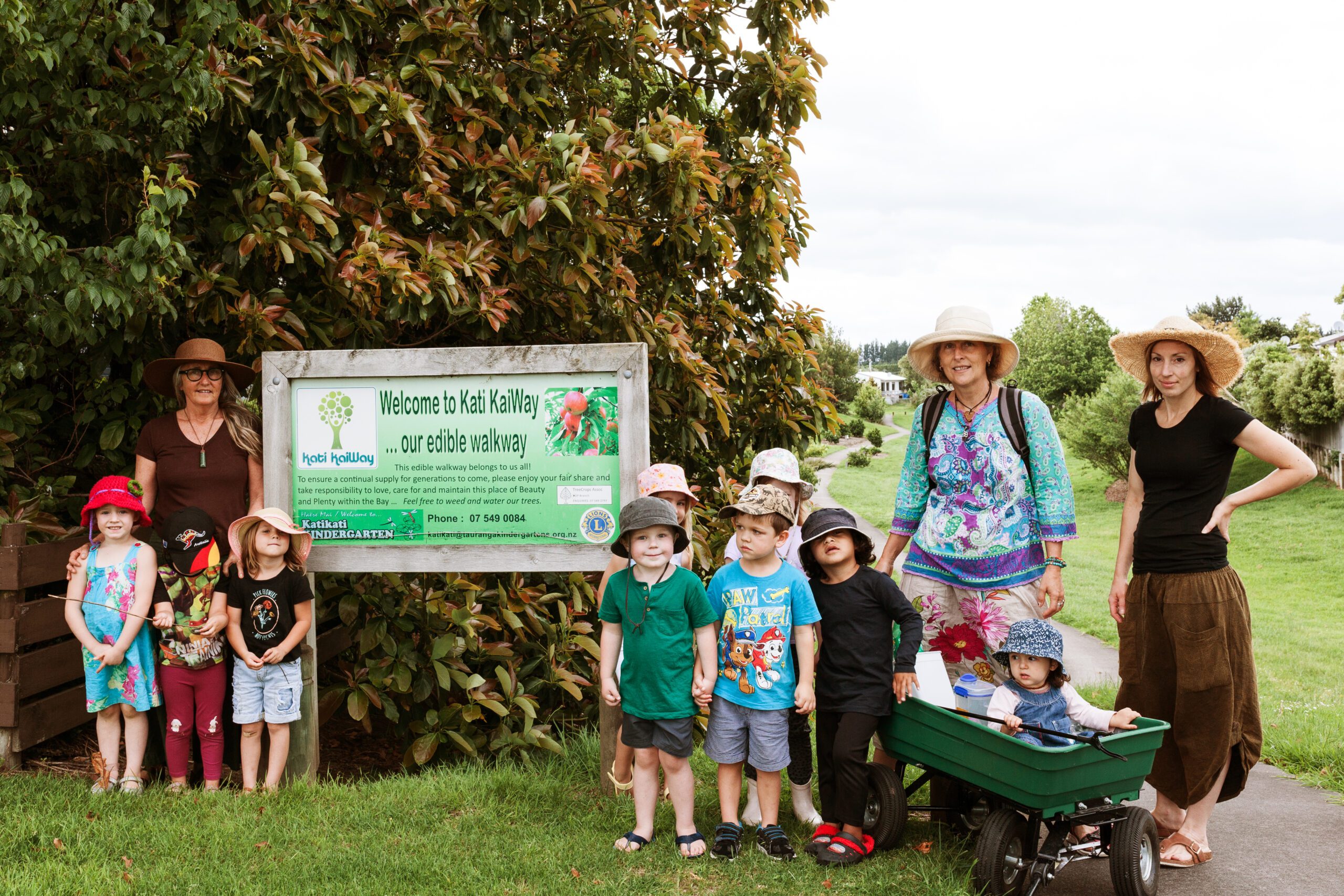 ***
The environmental focus of Katikati Kindergarten and many other like-minded centres ties in strongly with the principles of the early childhood curriculum Te Whāriki – whakamana/empowerment; kotahitanga/holistic development; whānau tangata/family and community and ngā hononga/relationships.
Te Whāriki describes Environmental Education for Sustainability (EEfS) as going beyond simply caring for the environment. To quote the curriculum, EEfS "is about the global, social, cultural and economic wellbeing of all people – as well as our planet, and the biodiversity that relies upon it", which includes global citizenship and democracy as part of caring for the environment.
In an early childhood context, EEfS includes "sustainability, climate change, critical thinking, identity, community and kaitiakitanga". Kaitiakitanga or "stewardship, protection and preservation" is especially important as one of the taonga of Te Tiriti o Waitangi, but also because the idea evokes personal and group stewardship and includes people as part of the natural world. To care for the environment is also to care for ourselves.
Of the three dimensions to EEfS, the third dimension – education for the environment – is where the impact of learning is most substantial and sustainable. The dimension includes:
Education in the environment – for example, visiting a place of environmental interest
Education about the environment – for example, researching places, things and events (including cultural narratives)
Education for the environment – for example, tamariki as active citizens (civic actors) and agents of change with a degree of action competence to advocate for a healthy environment and society.
But how do you talk to young children about environmental issues when the problem leaves many adults feeling fearful and unable to make a difference? Scott and her team focus on being proactive and empowering tamariki to do what they can in their world rather than burden them with things like climate change.
"They fully grasp it when you take them out into your local neighbourhood, and you look at a drain and you find cans, plastic bags and bottles. So we're not afraid to tell them about if it goes down to the drain, and they know if it goes down to the drain, where is it going?"
"It's going to the sea. And then they'll tell you that turtles might think it's kai, and they'll eat it and get a stomach ache. We're trying to empower them to take action and feel empowered to look after everything and learn about ecology and working with the environment and not against it."
***
Collectively Kids, an ECE centre in Point Chevalier, Auckland, also has environmental education at the core of its philosophy. Owner and team leader Marina Bachmann strongly believes that tamariki have the right to an environmentally sustainable present and future.
"For me, it's the main issue because the climate crisis and environmental degradation is really the biggest challenge that we face, and mitigating our mistakes should be our main focus really, because it's our job to ensure that future generations have a planet they can live on."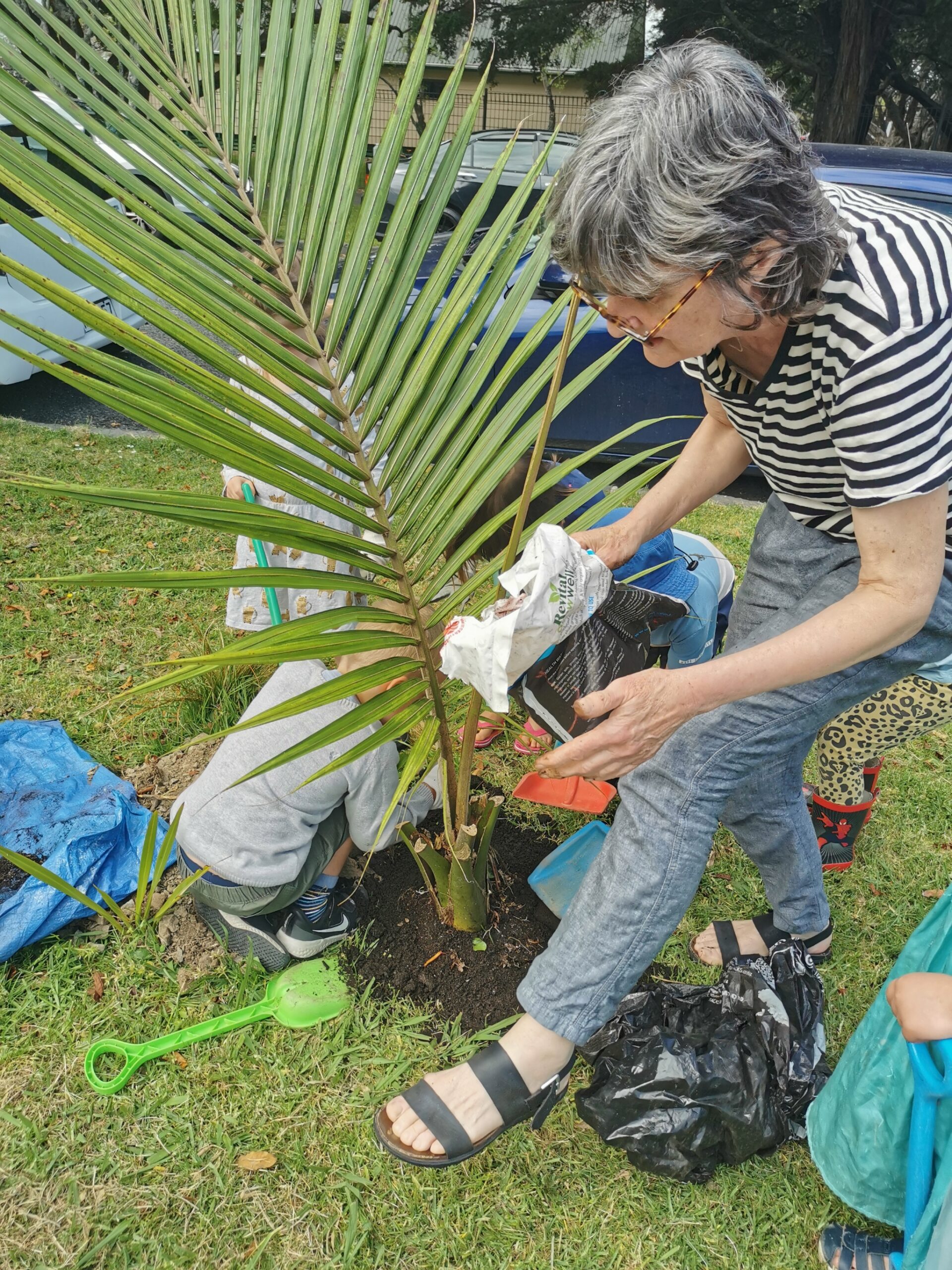 She says anyone who thinks under-fives are too young to understand or get involved in environmental issues "would be really underestimating our children."
"It's really about how you address those things with them. For me, it's trying to be clear, staunch, but also creative and making it fun, and making it real for them. There's no point terrifying them." Bachmann and her team talk to the children in terms of "adults haven't done a good job of looking after the environment."
"I don't usually go that much deeper, but we do look at things like polluted oceans, unfairness, fair trade. Also, we do things like support the City Mission and we have books about homelessness, so I guess what we try and do is explain the issue and then combine that with an action they can take to make that better."
"For me, it's trying to be clear, staunch, but also creative and making it fun"
"We do quite a lot of work around critical thinking, particularly around behaviour and actions that we take as people."
The centre has a strong advocacy and citizenship focus, and the children have ​contributed to letters to politicians about their concerns and put environmental displays on their fence.
"Developing a coherent and consistent climate crisis curriculum across all education sectors is key to ensuring that our tamariki and ​rangatahi have the skills, knowledge and dispositions to navigate an uncertain future," says Bachmann.
She says it was an easy decision to join the Strike for Climate marches, and the children understood what they were marching for. "We didn't go to the big marches, but we have a big banner – actually from ​a climate march that the ​Collectively Kids community attended several years ago. We take that out on Carrington Road quite regularly. We invited Unitec, and a lot of parents came. ​The children love ​marches, they sing waiata and chant," she says.
It was Professional Learning and Development some years back about Te Tiriti-based practice and bicultural practices that set the team in their current direction focusing on kaitiakitanga and social justice. Then, a few years ago, the Collectively Kids teachers took part in Tamsin Hanly's project, A critical guide to Māori and Pākehā histories, a professional development package aimed at educating teachers about accurate histories of Aotearoa New Zealand.
Bachman says the six-book Curriculum Programme Resource (CPR) is amazing, and while it's a little difficult to implement in an early childhood context, its value was in giving the teachers an accurate understanding of Aotearoa New Zealand history, from both Māori and Pākehā perspectives.
Local parent Mary Grogan chose Collectively Kids for her two children because staff were warm, welcoming and inclusive. The environmental
focus has been the cherry on top.
"CK's focus on everything that they do has really impacted us, and we wanted that for Clara (8) and Leo (4) and their future. They [CK staff] walk the talk in every way," says Grogan.
For instance, the centre's exclusive use of cloth nappies has a large impact on the amount of rubbish produced. Even families that don't use cloth nappies at home receive one each day to take home so their child can wear it to their next session. Grogan likes that the children get involved in hanging out the clean nappies to dry and then putting them into the cupboard.
"We can teach kids this young how to care for each other and the planet"
"We can teach kids this young how to care for each other and the planet. So I would love for more of the CK policies to be part of the everyday life of every centre. It's really hopeful to think that not only are they caring for the child, they're caring for the world in general."
Empowering ECE services, marae and other organisations to operate sustainably and environmentally is the purpose of Para Kore (Zero Waste) – a programme delivered with a Māori worldview. Para Kore works with 207 marae, twenty-six regular events and another 246 organisations including thirty-two kōhanga reo, to increase the reuse, recycling and composting of materials and reduce the extraction of natural resources and raw materials from Papatūānuku.
General Manager Jacqui Forbes has been with the project since its inception in 2009, first as a part-time project between Xtreme Waste and Waikato Regional Council and full-time since 2016.
"In the Māori worldview, we are the tēina, the youngest progeny of Tāne Mahuta, which means that our place in the world is one where we're the youngest in the family, so we know our place. That's a different paradigm of interconnected relationship, rather than saying 'oh these are resources, and let's make profits and let's manage these resources so we can get what we want'," she says.
Para Kore has kaiārahi in most parts of the North Island who are available to work with organisations that want to reduce their waste. They are also building relationships to expand into the South Island.
"We also work with early childhood centres, like kindergartens and playcentres. We work with anyone!" says Forbes.
"Our kaupapa is like a health and wellbeing kaupapa, and it has contributed to lots of policy decisions by the whānau of the kōhanga reo to help the parents go litterless in terms of what they're sending to kōhanga," she says.
Forbes conservatively estimates that the project has diverted more than 500 tons of waste from landfill over the past decade.
"I think we're all learning and realising that we have to be responsible and we're not the only species on the planet and our life depends on the world, you know. We're part of a system, we're part of a family."
---
FEATURE IMAGE: Iosefatu Aieki Too from Katikati Kindergarten.
MORE INFORMATION
Katikati Kindergarten
Kati KaiWay
Collectively Kids
Para Kore
Enviro Schools